What To Wear During Monsoon Season In India
Every year, we experience nearly severe weather conditions in India. And monsoon implies heavy rain and uncertain weather, which may derail even the most modest preparations for the day! As a result, proper monsoon attire is essential. That is why we have compiled a collection of monsoon fashion to help you keep trendy in the rain. The monsoon season has already arrived! Going to work becomes a challenging undertaking in and of itself. Dressing appropriately is the only easy method to lift your emotions throughout the dismal season, and wearing uber cool, bright, cheerful colors is the ideal approach to keep your spirits soaring high. On a rainy day, nothing works better than a georgette kurti, according to fashionistas. These vibrant, colorful kurtis in beautiful colors like ruby red, sunny orange, bright yellow, peacock blue, neon green, solid maroon, and Indian pink are made of flowing georgette fabric are the most secure and prettiest clothing.  Furthermore, the monsoon season is not the time to be proud of your great party wear embroidered suit or anarkali Punjabi suit. The monsoon season is ideal for brightening your mood with fashionable, easy-to-wear kurtis. These Indian georgette kurtis look great with jeans, churidhars, or tight dhoti salwars. This combination makes monsoon travel and walking extremely practical.
Fashion Ideas for Monsoon
Kurtis with digital designs, abstract patterns, and asymmetrical forms, on the other hand, appear ultra stylish for college or another day at work. Long earrings and monsoon footwear (read: bright heels) round off the ensemble. Check out your monsoon kurtis right now.
How and What to Wear During the Monsoon Season In India
Monsoon Fabrics to Consider:
It is necessary to select the appropriate fabrics. Natural fabrics with minimal absorbency, such as cotton and mulmul, are often suitable for monsoons. They are not only lightweight and quick to dry, but they are also ideal for humid climates because to their cooling effect, which allows air to move in and around the skin while keeping it dry. Cottons are fantastic since they are light and ideal, but they don't dry rapidly with increased humidity! Avoid using linen since it shrinks when exposed to water. Because they are sticky, silk, satin, denim, and thick apparel should be avoided.
Monsoon Essentials :
Some of monsoon essentials are required to make your day go well.   Sleeveless cotton shirts and short, flowy pants are required. Midi and flared dresses are ideal monsoon dresses since they are flexible and simple to wear. Loose kaftans and light shirts also work nicely. In this humid heat, skinny jeans are really uncomfortable.
Colors to Wear During the Rainy Season :
Monsoons may be depressing! In monsoon fashion ideas, we recommend wearing bright colors to lighten up your day. Bright pink, blue, orange, and yellow look well with neutrals. Color blocking is a great way to avoid ruining your clothes if you intend on going for walks or sitting outside to eat street food! Pair dark bottoms with a bright top, for example. Avoid black and white since the stains stand out. Instead of black, choose crimson or brilliant orange for nighttime celebrations.
Accessories for Rainy Days :
Undoubtedly, you'll need a fashionable raincoat and umbrella. As a result, you won't have to waste time drying your clothing at work every day. In humid temperatures, silver and shiny fashion jewelry might begin to oxidize. Choose from wood or plastic jewelry. To avoid difficulty, go for single, simple jewelry pieces or affordable trendy jewelry pieces. Water-resistant or polyester purses are ideal. On a rainy day, women tend to bring their entire world with them, including wipes, lipstick, and other cosmetics. While it is reasonable, carrying a large bag in the rain may be exhausting, so make it as light as possible. Carry a watertight small phone pouch as well.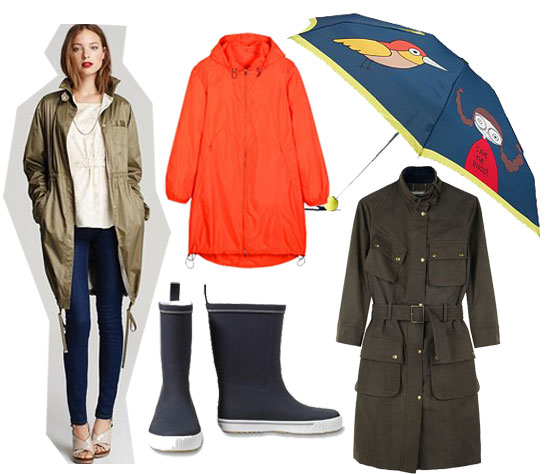 Monsoon footwear :
Simple flip flops or slippers are ideal for monsoons since they are comfy and dry fast, especially if you take public transportation. If you're going by automobile, choose rain boots since they're attractive and dry quickly. Alternatively, carry a pair of work shoes at the workplace to appear stylish and dry all day.
Makeup Tips for the Monsoon :
Skincare is essential during the monsoon season. Stay hydrated and moisturize your skin on a daily basis, in addition to following some fundamental skin care suggestions. In the monsoon, avoid wearing heavy makeup since it might get sweaty and spotty. Use gel primers and cream foundations to level out your skin tone. For the eyes, use waterproof gel or liquid liners rather than pencil liners, which tend to smudge in the rain. After rubbing your lips with lip balm, apply matte lipsticks or lip liners.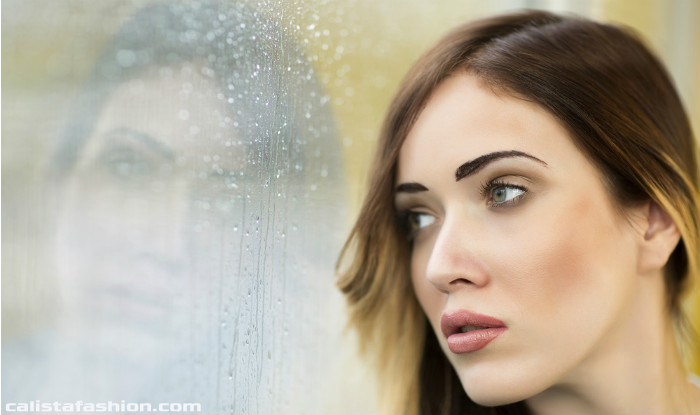 Monsoon Hairstyles Tips :
For the monsoon, try buns and braids. They are both comfy and simple to maintain. For a trendy style, try several types of braids such as fishtail, French braid, and inverted braids. High ponytails are also appropriate for the workplace. If you take public transportation and your hair becomes untidy, wrap it into a bun before leaving your house then braid or brush it after you get at work. Also, avoid blow drying or styling your hair every day. To avoid frizz, deep condition on a regular basis.