As a versatile canvas for putting together a variety of fashionable ensembles, crop tops have become a mainstay of the fashion world. Adding a dupatta can take your wardrobe to a whole new level, whether you're wearing a crop top with jeans, a skirt, or traditional Indian clothing like a lehenga or saree. The dupatta adds beauty and sophistication to your outfit in addition to enhancing your style. The technique of selecting the ideal dupatta for various types of crop tops and learning how to drape it in a variety of artistic ways will be covered in this article.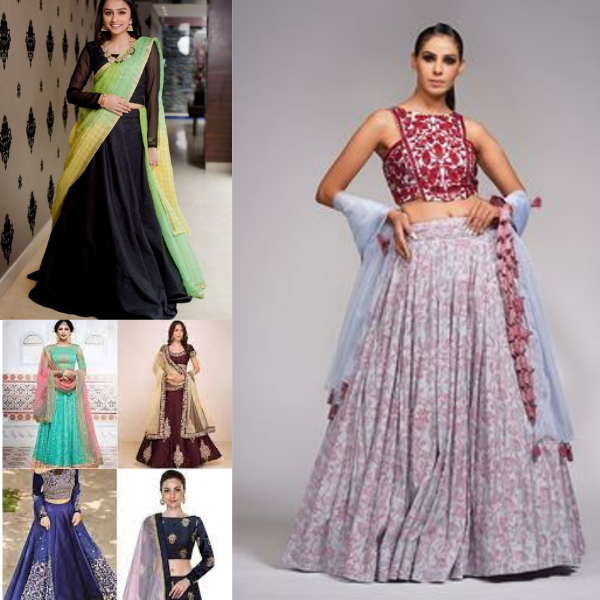 The Significance of a Dupatta
In Indian design, the dupatta is a staple item of apparel with a long history that dates back several centuries. It is more than just a plain piece of clothing; it is a representation of custom, modesty, and grace. While it has useful functions like covering you and keeping you warm, it also doubles as a flexible accessory that lets you show off your unique sense of style. The correct dupatta may completely change the way you look when wearing a crop top, whether you're going out on the town, attending a celebration, or even getting married.
Choosing the Perfect Dupatta
When choosing the appropriate dupatta, keep in mind the situation, the crop top's style, your body type, and your personal tastes. When selecting a dupatta, bear the following important considerations in mind:
1. Fabric:
Your dupatta's fabric is very important in defining how your outfit will look and feel as a whole. Consider the following choices for fabrics:
Chiffon: Chiffon dupattas are ideal for a light, airy aesthetic because they are lightweight and sheer.
Silk: Silk dupattas radiate elegance and are appropriate for formal settings.
Georgette: is a versatile fabric that matches a variety of designs and drapes wonderfully.
Cotton: Cotton dupattas are cozy and simple to keep, making them perfect for casual settings.
2. Color:
Your dupatta should complement the color of your crop top and bottom. You can use clashing colors for a vivid appearance or a monochromatic design for a subtle yet elegant look. When choosing colors, keep in mind your skin tone to make sure they go well with your complexion.
3. Embellishments:
Take into account the number of beads on your dupatta. While some dupattas are modest and understated, others include elaborate embroidery, sequins, or mirror work. Your personal preferences and the formality of the situation will influence your decision.
4. Length:
Dupattas are available in a range of lengths, so choose one that complements the design of your crop top. Shorter dupattas work well for a relaxed draped or looped appearance, while longer ones are appropriate for intricate drapes.
5. Occasion:
The occasion has a big impact on your dupatta pick. You can decide on a lavish and heavily adorned dupatta for a wedding or festive event. A lightweight, simplistic one is preferable for a casual outing.
6. Draping Style:
Take into account how you intend to wear the dupatta. Longer dupattas are needed for some styles, while shorter ones can be worn with others. The way the decorations and patterns are displayed is also influenced by the draping technique.
Different Styles of Draping Dupattas on Crop Top
Now that you've found the ideal dupatta, it's time to experiment with different ways to drape it over your crop top. Each design has a distinctive appearance, so you should match your pick to the situation and your own preferences. Let's examine some common dupatta draping techniques:
1. Classic Front Drape:
A timeless option, the classic front drape goes well with many different crop top designs. Here is how to do it:
Make a long strip out of your dupatta by folding it in half lengthwise.
Let the two loose ends hang equally in front, and place the folded edge on one shoulder.
To achieve a classy and modest appearance, adjust the length as needed.
This look is ideal for formal occasions and other times when you want to keep a traditional feel.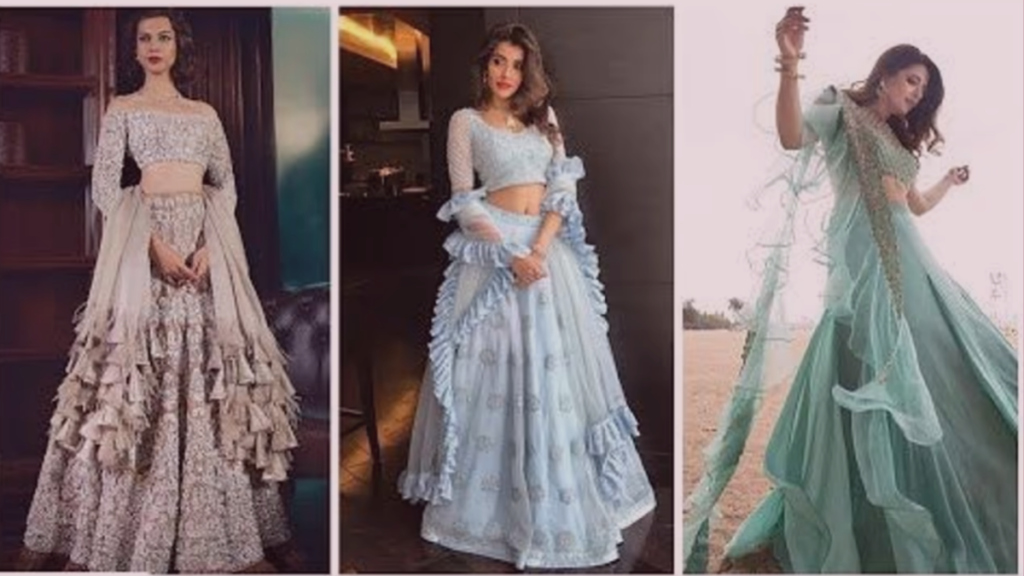 2. One-Shoulder Drape:
Try the one-shoulder drape for a stylish and asymmetrical appearance:
Allow the dupatta to fall diagonally across your torso as you drape it over one shoulder.
With a decorative pin or by tucking it into your waistband, fasten it on the other side.
Both informal and formal settings benefit from the one-shoulder drape's flair.
3. Shoulder Cape Drape:
Convert your dupatta into a shoulder cape for a striking and modern look:
Allow the dupatta to hang down from your back by wrapping it across both shoulders.
For a daring and expressive style, adjust the length to your preference.
The shoulder cape drape can be a gorgeous accent to your outfit for weddings or parties and is perfect for fashion-conscious people.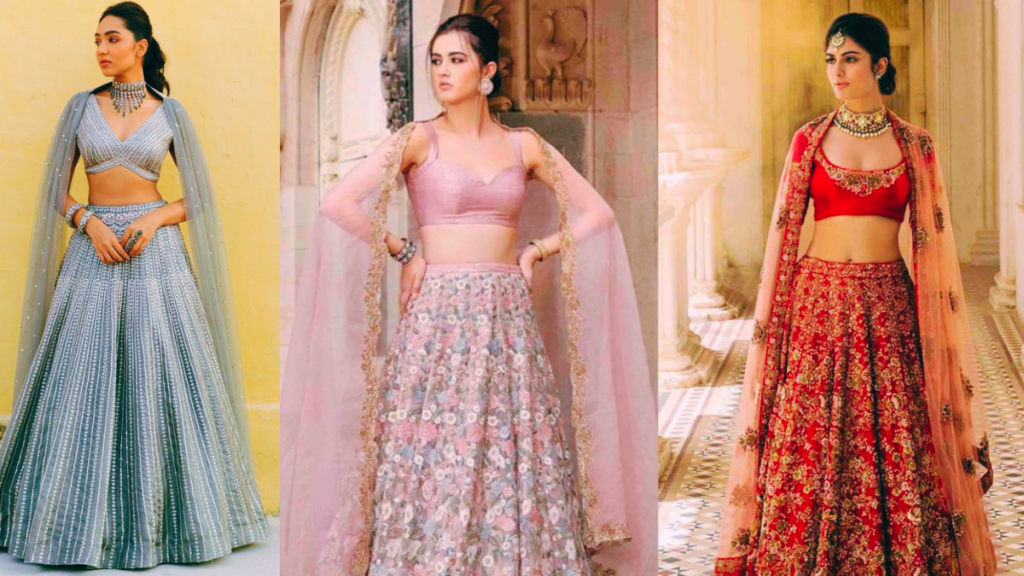 4. Belted Dupatta Drape:
Use this style to accentuate your waist and give off a structured appearance:
Add a waistband or belt over your crop top.
Put the belt around the dupatta's waist and drape it over one shoulder.
Both informal and semi-formal settings are appropriate for this look because they draw attention to your waistline and give your clothing a contemporary edge.
5. Pleated Pallu Drape:
The pleated pallu drape is a great option for an attractive, traditional look:
Fold the dupatta accordion-style to create pleats along its length.
Spread it out in front of your body, drape it over one shoulder, and allow it to fall.
To add depth and sophistication, adjust the pleats.
This look is ideal for weddings and other festive occasions where you want to highlight your dupatta's elaborate embroidery.
6. Side Loop Drape:
Try the side loop drape for a creative and playful touch:
Allow the dupatta to fall beautifully by wrapping the end over your wrist.
This look gives your clothing a distinctive and captivating feature, making it appropriate for social gatherings and parties.
7. Saree-Inspired Drape:
The saree-inspired drape offers a fusion of traditional and modern components while evoking the elegance of a saree:
The dupatta should be made into pleats and worn over one shoulder.
Allow it to fall gently in front of your body.
This look is perfect for weddings and formal occasions since it blends the allure of a saree with the convenience and comfort of donning a crop top.
8. Crisscross Drape:
The crisscross drape is a stylish and imaginative option:
Put your dupatta behind your back and cross the ends.
Bring them in front of you so they form an X over your chest.
For a distinctive and edgy look, pin the ends in place or tuck them inside your waistband.
The crisscross drape provides a striking accent and is appropriate for those who value fashion.
9. Experiment with Accessories:
To improve your selected dupatta style, play around with accessories like brooches, tassels, and ornate pins. These additions can spruce up your appearance and make it more distinctive. Select accessories that go well with your overall look and the situation.
Conclusion:
Draping a dupatta in different styles on a crop top allows you to express your individuality and create diverse looks for various occasions. You may show your uniqueness and create a variety of appearances for different occasions by using various dupatta drapes on crop tops.
You may raise your fashion game and make a statement with your clothing by choosing the appropriate dupatta for the event, including the fabric, color, embellishments, and draping technique. Whether you favor a traditional, one-shoulder, or cape-type drape, the goal is to select a style that complements your own preferences, the formality of the occasion, and your degree of comfort. Explore the variety of dupatta styles on crop tops by experimenting and having fun!