Most Stylish Women's Summer Attire 2023
Most stylish women's summer attire 2023 is a huge collection of fashionable outfits. Women's fashion this summer is all about stylish, risk-taking looks. Your wardrobe will have a contemporary edge with bold hues and eye-catching prints. Think cargo trousers and loose blouses paired with fitted miniskirts, maxi dresses with eye-catching patterns, long sleeved shirts tucked into high-waisted skirts, and loose blouses paired with fitted miniskirts.
The most fashionable women will be wearing versatile dresses, vibrant jumpsuits, trendy shorts and skirts, basic tees, and fun accessories this summer. For resort-style elegance, lightweight maxi dresses with striking designs are a must-have. Choose a crisp white blouse and shorts for a relaxed yet stylish appearance. Alternatively, make a statement by wearing patterned high-waisted shorts with a blouse in a uniform color and a pair of wedges. Bright jumpsuits and rompers look great with both day and night outfits and can be accessorized with statement jewelry and shoes. A floppy summer hat and a stylish crossbody purse complete any look.
How to dress comfortably in the summer
Wear light, airy clothing in summertime hues like white, pastel blue, and beige that is loose-fitting. Consider using airy materials like linen and light cotton. Think about wearing capris, shorts, and dresses. Your feet will stay comfortable if you wear sandals, canvas shoes, or open-toed footwear. Choose tank tops, T-shirts, sweaters, or sundresses for the top. To finish off your appearance, put on an aviator pair of sunglasses and a hat with a wide brim. Accessorize with chunky espadrilles and statement bags for the ultimate style. A voluminous braid or high-shine pigtails will give your look an effortless, cool vibe. Don't neglect your hair.
Most comfortable outfits for summer:-
Crop Top and High-Waisted Shorts
Maxi Dress
Jumpsuit
Romper
Off-the-Shoulder Top and Denim Skirt
Crop Top and High-Waisted Shorts:-
This outfit is ideal for warm weather days! When wearing high-waisted shorts with a crop top, you can flaunt your assets while still appearing stylish. A basic crop top can be worn casually with high-waisted shorts made of denim or linen, or it can be dressed up with a flowy skirt and statement jewelry. Select a crop top with a striking design or color, and match it with neutral-colored shorts for a chic juxtaposition. For the ideal daytime appearance, add a belt to define your waist and accessorize with simple jewelry.
Maxi Dress:-
A maxi dress is a multipurpose summer outfit that can be dressed up for formal situations or worn to more casual gatherings. For a statement appearance, go for light fabrics like cotton or linen in bold prints or solid hues.For women who are fashionable and sophisticated, maxi dresses are a traditional option. They give a variety of looks that range from casual to formal and are extremely versatile. A maxi dress can be floor-length or just above the calf in length. They come in a variety of styles, hues, and patterns and can be made of any material, from light cotton to heavy velvet. Consider adding accessories like a striking necklace or a pair of statement earrings for an additional dash of glitz. Maxi dresses are ideal for any event, including a night out with friends or a stroll in the summer.
Jumpsuit:-
Jumpsuits are a simple, put-together summer ensemble that require little to no styling. For a relaxed, comfortable appearance, go with a breathable fabric like linen or cotton and pair it with a set of sandals or sneakers. This adaptable wardrobe essential is ideal for any situation. Jumpsuits are very versatile and can be dressed up for a night out with a pair of heels and statement jewelry or dressed down with sneakers for a carefree daytime appearance. It is practical, fashionable, and classic, making it ideal for quickly putting together a trendy ensemble. Find the color and style that best fit you from a variety of options. You'll always appear effortlessly stylish in a jumpsuit.
Romper:-
A romper is a fun summer ensemble that is ideal for a picnic or a day at the beach. For a playful touch, look for rompers with vibrant patterns, cutouts, or ruffles.A romper that is airy and loose-fitting is a great way to feel and appear fashionable. For a standout appearance, go with a romper in a cheerful pattern or solid hue. For a fashionable appearance, accessorise with statement jewellery, wide belts, and sandals. On chilly days, add a tank underneath for a more formal appearance. To finish the look, don't forget a hat and sunglasses. Choose a flowing fabric, but watch out for too much of it to slide off the shoulders. With so many choices, romper outfits offer countless styling options.
Off-the-Shoulder Top and Denim Skirt:-
A denim skirt can be worn with an off-the-shoulder top for a flattering summer ensemble that is both relaxed and fashionable. To finish the look, add a pair of wedges or strappy shoes. A lot of eyes will be on you in this chic off-the-shoulder blouse and denim skirt ensemble. The lightweight, flowy top is ideal for the summer because it keeps you cool. From a day in the city to a night out, the denim skirt adds just the right amount of side and is ideal for every event. Don't be afraid to try out new accessories to make the outfit uniquely yours.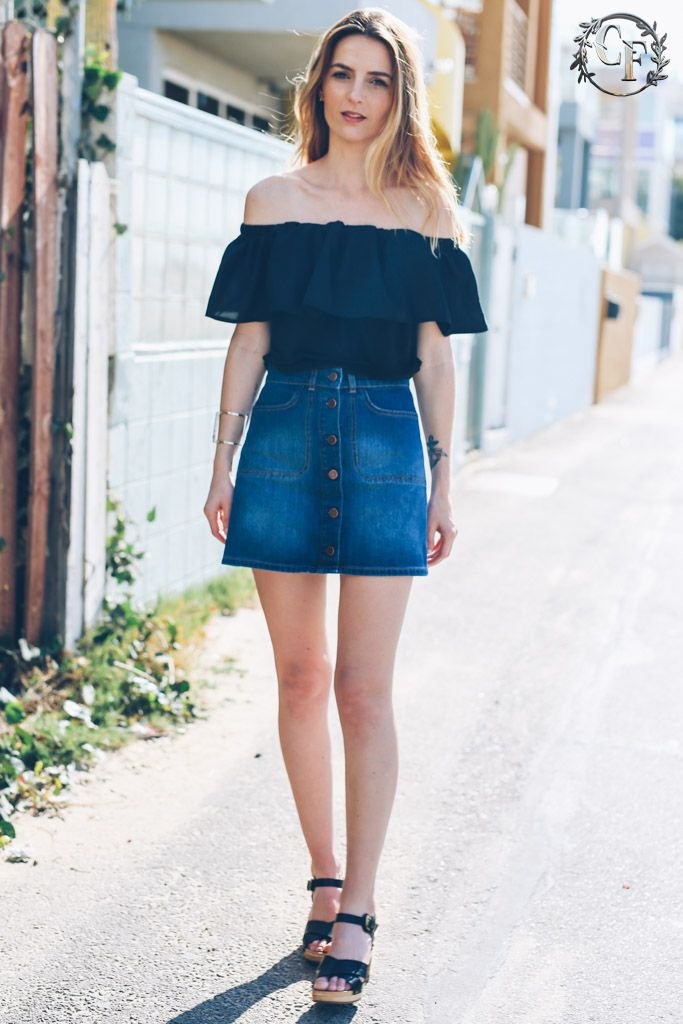 Fashion Tips For Styling Summer Outfits:-
Start with a flowy, light fabric like linen, cotton, or chambray, and opt for lighter, more vibrant hues to mirror the sun.
Wear light-colored clothing.
Choose sleeveless or loose-fitting arms.
Select a free-flowing shape like a jumpsuit or a maxi dress.
Add a lightweight jacket or cardigan for a breezy layer.
Accessorize with vibrant, enjoyable items like a floppy cap or a patterned scarf.
Wear a special pair of shoes to showcase your sense of fashion.
When the temperature drops, wear a bomber or leather jacket.
Add a statement bag and some jewelry to finish the outfit.
CONCLUSION:-
The summer is a wonderful time to add vibrant colors and airy fabrics to your wardrobe. Summer is the ideal season to express yourself through daring fashion choices, whether it's adding a pop of color to a casual ensemble, choosing colorful, loose clothing for days at the beach, or rolling out an elegant evening look. Combine various fabrics and aesthetics to produce eye-catching outfits that are ideal for warm summer days. Make each bright day your own by letting your inner fashionista out to play.